TeamMate TEC provides the ability to enter time and expenses for projects, nonworking events (such as vacation) and administrative activities. It allows you to visually track the progress of projects and associated costs, and generate reports that summarize projects, resource utilization and overall department budgets.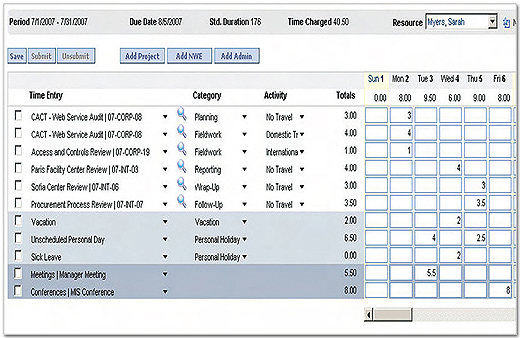 Time entries are input via the intuitive timesheet interface.
Streamlined Timesheet Processing
TeamMate TEC is a web-based application that streamlines the data entry process and makes timesheets available from anywhere.
Timesheet selections will auto-populate from TeamSchedule assignments to minimize the effort required to complete a timesheet.
Administrators can set policies to limit the days on which time can be charged and the total hours on a timesheet.
Resources can have their time entered by a proxy such as an Administrative Assistant.
Mistakes can be corrected by either unsubmitting timesheets or creating negative time entries on subsequent timesheets.
Supervisors can be assigned to approve timesheets.
Quickly Capture the Status of Your Projects
There are several views that quickly capture the status of your annual plan or projects.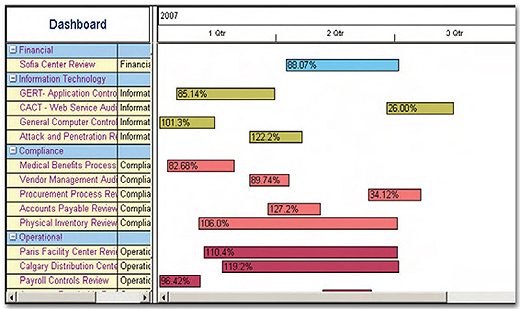 The visual display of the dashboard shows the % completion for each project.
Expense Tracking
Expense entry does not have to be detailed, as TeamMate TEC is not an expense reimbursement system, but rather a quick way to track out-of-pocket costs for projects.
You determine the expense categories that you want to track.
A handy calculator allows you to add up amounts such as all related transportation costs for a single entry.
Details can be entered to provide additional information when required, such as an unexpected expense or an extension of a trip.
Project Tracking — Analyze your projects by grouping them by project type or location and then drill down into the detail of where hours have been spent and determine if you are on schedule and going to finish on time. This view is powerful for management or Auditors-In-Charge to manage their project costs and timelines.
Tracking GANTT — At a glance, determine if Key Performance Indicators (KPIs) are being met with respect to time spent in planning, fieldwork or reporting and wrap up.
Time Dashboard — Management can see the overall progress of the Annual Plan. As you scroll down the project listing, details about that project appear in the Info View at the bottom of the screen confirming start/end dates and hours for the project.
Timesheet Status — Management can check the outstanding status of timesheets to ensure data completeness and accuracy for period reporting.
Reporting is simple. Select a report type, such as Resource Utilization, and then filter the data set for your criteria. The use of filters expands TEC's list of 11 standard reports to capture almost any reporting need.

The project tracking view shows where time has been spent and compares budgeted to actual time spent.