TeamMate EWP's powerful database architecture allows you to quickly find the information you need, making the documentation and review process more efficient.
All important information such as program steps, findings, coaching notes, sign-offs and edit histories are contained in database tables. Database-driven systems such as TeamMate allow real-time, team-based use, facilitate filtering and sorting of key information. Because of its database architecture, TeamMate EWP is more powerful than simple documentbased systems.
You can filter and sort key information instantly, so you can find procedures based on who they are assigned to, status, risk level or keyword.
Increase Efficiency with Collaboration
The TeamMate work program was developed from the ground up to maximize online preparation and review efficiently. Individual sign-off of each procedure within a multiple step program allows team members to work on different steps within the same work program and each electronically sign-off their own steps.
TeamMate's clear status flags and filtering features allow reviewers to easily identify and quickly navigate to areas of work that are ready for their review.
Functional access levels within TeamMate provide for distinct levels of authorization based upon your 'role' on a given project. For example, a preparer cannot sign-off workpapers as reviewed, and a read-only team member can view the project file but not make changes.
Powerful Workpaper Features
A point-to-point cross-referencing system automatically links your work program steps to the audit findings. Did you discover a purchase order that did not comply with corporate policy? Scan it in. It is automatically linked to the audit step, detailed write-up and management report.
Additional TeamMate cross-referencing abilities include:
Automatic referencing of work papers to coaching notes and exception write ups
Hyperlinking across all applications
Hyperlinking to websites, including files, eg. ACL
Creating and linking to bookmarks
Go Paperless with Scanning Functionality
TeamMate EWP includes state-of-the art imaging software, which allows you to scan images, faxes, emails and digital pictures into the file as audit evidence. Adobe Acrobat (PDF) files can also be imported into the imaging module, allowing annotations and cross references to be placed on top of the underlying data.
TeamMate's powerful 360° reporting feature facilitates the automatic real-time drafting of issues, findings, work programs and time summaries into preformatted Microsoft Word documents. TeamMate enables the documents to be sent to management for responses, which can then be imported back into the audit file.
Advanced Microsoft® Office Integration
TeamMate EWP is noted for its advanced application integration. Audit findings are documented directly onto work programs or inside fully integrated Microsoft Word or Excel workpapers. These Microsoft documents retain their full functionality within TeamMate, and the additional ability to add cross-references, tickmarks, issues/exceptions, coaching notes and sign-offs to documents is provided by the advanced TeamMate toolbar.
All elements of the project file are automatically encrypted and compressed by TeamMate. This includes 3rd party workpapers such as Microsoft Word, Excel and Powerpoint. Your workpapers are secure whether they are on your server, local PC or somewhere in email or WAN transit.
TeamMate's powerful reporting feature facilitates the automatic real-time drafting of issues, findings, work programs and time summaries into pre-formatted Microsoft Word documents.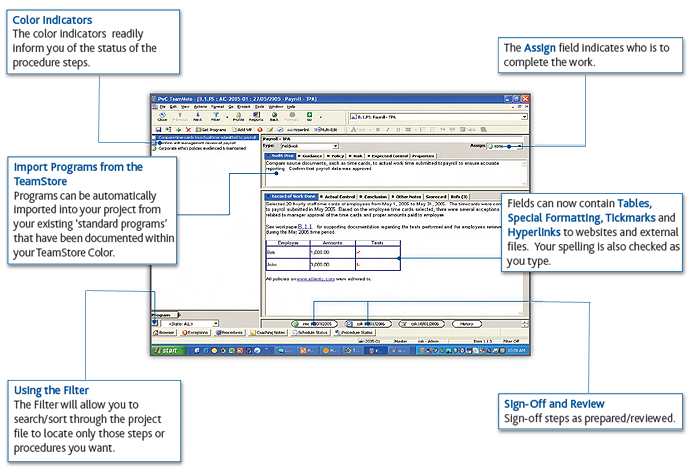 The procedure summary displays who is assigned to complete the work,
the status of the procedure steps, and the record of work done.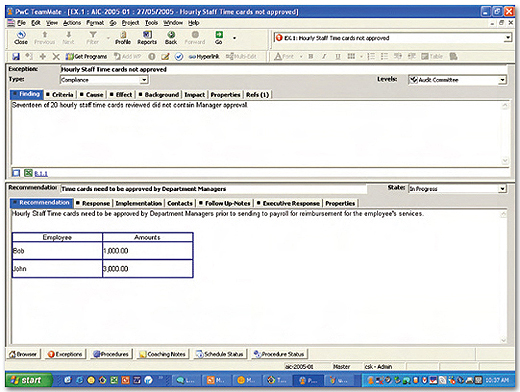 The exception/issue detail is used to document the exception/issue findings and recommendations.
| | |
| --- | --- |
| | The TeamMate Auditor tool-set, an advanced tool bar, allows your team to document exceptions, tickmark workpapers, cross-reference, create coaching notes and electronically sign-off workpapers. |